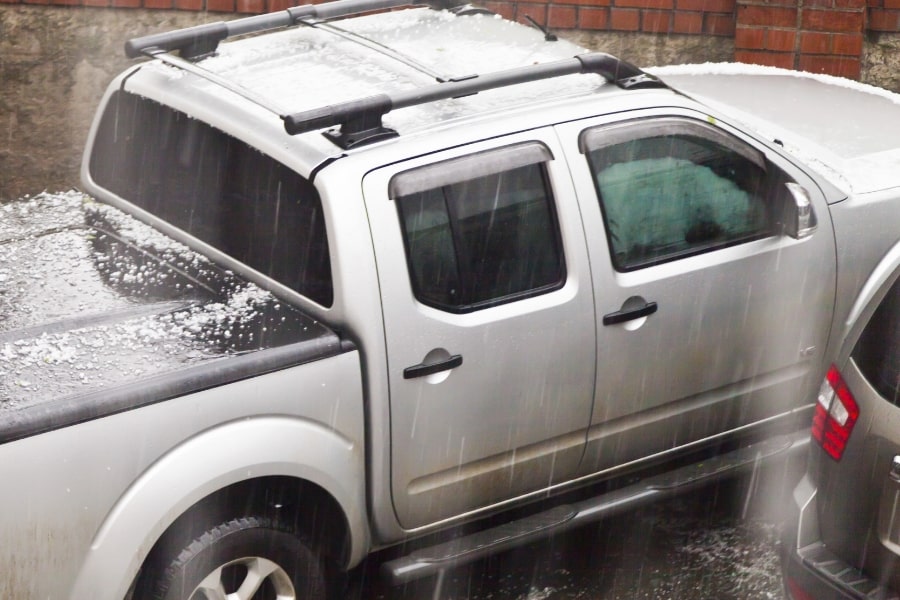 Weather Damage Repair Near Carmel, IN
Weather in central Indiana can be unpredictable, making it difficult to protect your vehicle at all times. If your vehicle has suffered from weather damage, you can get it fixed at our state-of-the-art collision center at Tom Wood. Our locations allow us to serve drivers from Carmel, Indianapolis, Westfield, Zionsville, Fishers, and other nearby towns in central Indiana. We offer a complete range of auto repair services, including weather damage repair. The repair services are performed by our experienced and certified repair specialists. You can continue reading to learn more about our weather damage repair services.
Hail Damage Near Carmel, IN
If your vehicle has been in a hailstorm, it can suffer from dents, chips, and other types of minor or major damages. The roof and the hood take most of the damage as they get the direct impact of the hailstorm. In severe cases, a hailstorm can shatter windshields. Our technicians can fix all types of hail damage for your vehicle to restore its condition.
Wind Damage Near Carmel, IN
High winds can cause damage to cars in different ways, but the most common wind damage is caused by debris in high winds. The debris, such as rocks, sticks, garbage, and twigs, can strike your vehicle resulting in dents, dings, or scratches. Our technicians at Tom Wood Collision Center are equipped with all the best tools and techniques to fix wind damage.
Storm Damage Near Carmel, IN
from auto body damage, but the electrical components of the varied can also be damaged in a storm. Rust and mold are also common if storm damage is not repaired on time. Allow our expert technicians at Tom Wood Collision center to inspect the storm damage to recommend what type of repairs will be required by your vehicle.
Why Get Repair Service at Tom Wood Collision Center?
At Tom Wood Collision Center, our team is experienced and trained in all types of repair services for weather damage, including paintless dent removal (PDR), windshield repair and replacement, painting, dent repair, and more. We also carry all the best tools and technology required to fix weather damage.