Auto Painting in Indianapolis, IN 
At Tom Wood Collision Center of Indianapolis, we provide auto painting service with a remarkable quality that often makes our customers wonder how restoring their vehicle to its pre-damage appearance is even possible. We offer a range of auto painting services perfect for addressing the range of damages that can occur.
No matter if you have a minor paint chip that you want to be touched up or if you want a full-body painting due to a collision, all of our auto painting services feature experienced auto body painters that are specialists in auto paint application. We are conveniently located in Indianapolis near Carmel, Fishers, Zionsville, and Westfield, IN.
Get a Free Estimate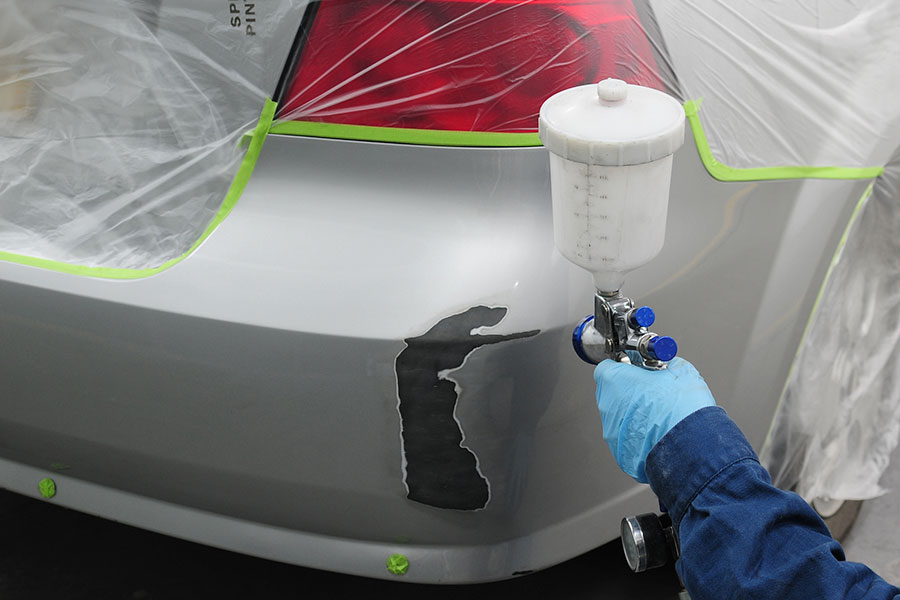 Guaranteed Paint Work 
Our auto body & paint shop can perform a variety of paint services from minor paint repair and scratch repair to complete auto painting and everything in between.
    -    Touch-ups
    -    Bumper Scratches
    -    Paint Chips
    -    Major Paint Scrapes
    -    Full Auto Body Repaint

Overview of Auto Painting Services 
At Tom Wood Collision Center of Indianapolis, we provide a range of auto painting services according to the level of damage and the degree of work needed to restore a vehicle to its pre-damaged structural integrity and appearance. No small scratch needing minor paint repair is too small and no collision damages are too great for us because we can do it all when our customers need to repair paint damages. We staff a team of experienced auto body painters with proven meticulous attention to detail that drives the quality results that our customers have come to expect. Here is an overview of our auto painting services: 
Minor Paint Repair

- we call these repairs touching up because they are usually due to minor impacts from rocks or another airborne obstruction. From chips, cracks, to scratches, we can repair all minor paint damages using our paint refinishing process. Minor paint repair is an excellent opportunity to make a vehicle look better, especially just before entering a sales negotiation to protect the vehicle's resale value. 

Major Collision Full Body Painting

- when major paint damages have occurred with underlying auto body damages that also require repair, we can paint an entire vehicle or a damaged side panel. Our process includes preparing the body to receive fresh paint, applying the perfectly matched paint color, buffing, clear coat application, and high-end wax guaranteed to make the vehicle shine with a pre-damage appearance.
Experienced Auto Body Painters 
The auto paint specialists at Tom Wood Collision Center stand by to assist you with your repair or custom auto paint ideas. Our years of experience and certification provide you with the peace of mind to know that you have chosen the right auto paint shop.